BOOK ONE: VIOLET EYESAn incomprehensible girl, an ashen man and a sassy goldfish stumble through the stories of a broken world.The story begins after a cataclysmic event caused by a well-meaning father. It centers around his daughter figuratively and literally trying to piece her life back together. Friends and family are scattered due to the volatile nature of the endless world her father created, but before she can find them, she has to find herself.Chained Sky is a multimedia project that will center around a 7-book series.- The video describes the mythos of Chained Sky.
ABOUT THE AUTHOR
Hi there! I'm Deryago, aka Andrew "D" Francis. I love creating characters and weaving their stories. My endless pursuit of creativity is to give them the lives they deserve to live.I started writing back in 2003 at the end of highschool, but life has a funny way of getting in the way. My career path started with graphic design, webdesign and desktop publishing. Then when I kept getting hired for my tech expertise, I got a degree in computer science. Over a decade of various IT jobs, I decided to go back to college. By 2024 I will have obtained a bachelors degree in Media Arts. This time I'm all about creativity and encouraging it in others!
Planned release date: Oct 4th, 2023
If you'd like updates, Lia Defe of the BunBun Post would like to formally invite you to join the mailing list.

Planned release date: Oct 4th, 2023
If you'd like updates, Lia Defe of the BunBun Post would like to formally invite you to join the mailing list.
Characteristics: Violet speaks in a language no one speaks or understands, yet to her it seems she's speaking normally. Why this is a thing, no one knows. At least she's magically talented.She enjoys napping in her favorite tree and cuddling her sunny bunny. When she's not drawing, painting, or basking in nature, she's probably thinking about pastries. Her sweet tooth is befitting of how sugary sweet she is.Background: She knows nothing of who she was or who she is supposed to be. All she knows is the isolation of her tiny realm of creativity.
Characteristics: Corsa is the reincarnation of the man of ash and flowers. His past mistakes led him to forget himself for the sake of others.He enjoys dreams, poetry, flowers and rain.Background: Everything in the world is bound to who this man used to be.
Characteristics: Where should I start? He's a glowing goldfish stuck in a bubbled starfield that acts as the orb for a magical staff.Prudence likes long swims on the beach, puns and people who can appreciate his dry wit. Anyone clever enough to call him a fish stick gets bonus points.Background: That is not something he wants to talk about. Just look at him. He's the goldest cutefish in the entire world. That's what matters; that and he's Violet's guide and a disciple of her father.
Characteristics: Kabitu currently doesn't have her physical body and exists as a fiery representation of what she was. She's currently learning to walk and exist in the real world. As a fire elemental, she can choose whether or not to eat what she touches. Did you know Kabitu loves bread? She will bite you for it.Background: In Flicker's daydreams, she was the Sun. She is convinced that if she eats enough bread she will become the Sun once more. Beh!
Prologue: Flying Kytt
This self-contained story sets the tone for Chained Sky.
The children of Fortune were known as Taelfolk, or Taels for short. Their divine mother had an affinity for games, fun, and all things fluffy. Thus every Tael had a tail and ears to match. They weren't always the same kind, though; One's ears might look like a cat's, tail like a bunny. Some were foxy or something in between. This was a bit random, but luck would have it that the results always suited the Tael. Knowing her love, Fortune's children had the courage to live for their dreams. Every Tael's life was a story, and Oliver Kytt's was an exceptional one.Wind and water whipped Oliver's back as he clung to his shirt. Nature dared to snatch the sail of his beloved ship, but he would not be deterred. The only shirt he owned would now serve as the makeshift sail of the Flying Kytt. It was barely a ship, strung together by the hopes and dreams of a young boy. But as far as he was concerned, that was more important than any of the details. Biting the neck of his shirt, Oliver pushed a rope in through the arm hole. Turning a shirt into a sail was a difficult task even without the wind's interference. The rope was not cooperative. It didn't want to exit the other arm hole. A splashy wave slapped the boy in the face, interrupting his deep focus. The other end of that pesky rope took the opportunity to pop out the waist of his removed and exceptionally soggy shirt. This was going to have to do, so he went to affix his shirt-sail to the mast. Cutting, wet wind tried yet again to rip it from his grasp and tested the determination of his jaw. The boy laughed and grit his teeth in defiance of The World, pressed forward and did his work. He looped rope around the wood and tied it in two places. He didn't know what kind of knot to use, so he improvised as he always did. The end result was barely a sail; it functioned more like a flag. However for Oliver Kytt, this ship was a namesake and the world needed to see it. A flag suited him just fine. The waters knew to carry him with or without wind; that was the importance of this quest.The catty young Tael captain gripped the mast and looked to the oncoming mist. This was the final hurdle between him and an eruption of water that coiled tightly and shot infinitely into the sky. Now that he was near it, the enormity of what he faced sank in. He was but a speck of dust at the base of a mighty tree.Cutting through the fog deprived him of his sight, but he could hear it; the static roar of rain. This was it. This was his life's goal. Managra was a tree so massive that the clouds were its canopy. The sea of a river he contended with to get here was just one of its many roots. All the waters of the world converged here to feed into this tree and shoot up into the sky to be scattered as clouds and rain.Gravity shifted with the rising angle of the water's flow. If it kept up as planned, Oliver and his Kytt would go up, a lot. Knowing this, he hugged the mast with all the might his tiny body had. Even if it were just a weird, upside-down waterfall, he would touch Managra no matter the cost. This was his one-way ticket to the sky. Maybe he could sail the Flying Kytt to new worlds. Maybe he would die, but even if he did, his story was the one and only one worth living. Fortune would know his name.Sometimes though, The World had other plans. It was today that Managra was uprooted due to some godly shenanigans. This created a window beside him and his Flying Kytt. He couldn't see through as the mists continued inward, but obviously this meant he was the chosen one. Oliver gladly accepted this as fact. He and his ship sailed like a kite into the unknown void beneath the world tree.When Oliver opened his eyes, he saw upside down trees and a field of glowing yellow stuff. He went to rub his neck and felt the earth beneath it. Evaluating his circumstances, it seemed he was upside down and his tail was squished against a tree. Up above and stuck in its branches was the Flying Kytt. Part of him wanted to groan, but the rest of him flopped over and pushed him back onto his feet. Oliver grinned at this new land. He had discovered it. Now all he needed was a flag to claim it. Luckily, he had one. Even better, it gave him an excuse to climb a tree.While climbing the first branch, it dawned on him that it was both day and night at the same time. There was a big sun shining down from the center of the sky, and all around it was a starry night. Most of the terrain was covered in similarly sunny looking grass. 'Huh,' he thought. Anyway, back to his climbing business, Oliver leapt to the next branch and pulled himself up. The next was a bit more tricky. These were the branches that caught his ship so they were more delicate and much harder to grasp. Looking for an alternate route up the tree, Oliver managed to find a fairly convenient detour. A bit more climbing and he pulled his way up to the deck of the canted ship. Alas, his flag was gone. The mast was there, but maybe the sky needed a shirt more than he did. Good thing he was the chivalrous type. He sighed, still soaked and standing in a ship in a tree with nothing but his shorts.Oliver wasn't sure what his next big goal was. That's when intrusive thoughts of an imaginary girl named Sky and how she might look entered his mind. If Sky saw how cool he was she'd be so head over paws for him right now. He was going to be a king, find a cute princess, and like, kick a dragon or something. The boy started chuckling like a complete idiot.While climbing back down, Oliver considered where to go. This hidden island within Managra seemed to be contained within a distant dome resembling a sky. Whether or not it was real didn't change the fact that it was extraordinary to look at. The stars glistened like gems. Maybe he'd go see what was under the Sun. He marched forward into that tall, glowing, golden grass. It was wheat with grain that burned like candle flame. Embers of its divine incense tickled his nose and fed his mind thoughts of delicious bread. Maybe he had died after all? Thinking about it, death was just part of the journey. Maybe it never ended and could always be this fun.The wheat field was taller than Oliver was. There was an odd path to it though. The wheat greeted him by parting and creating a path as he walked. He had never met such friendly grain, so he patted it in thanks. After walking along for a while, Oliver did something rare; he looked back. Behind him was a small cottage. It had not been there previously. Suspicious now, he continued with quiet footsteps and attentive, catty ears. A slight grinding sound meant the house was following him. He stopped, and it did too. When he looked back, it was just as close as before but remained motionless. Maybe it was shy. That was the way Oliver thought.Not one to fear such things, the boy walked right up to the house, placed a paw on the door frame and said "Hey." He couldn't have said it any more flirtatiously.
The house responded by opening its door.Even if he was surprised, Oliver, not being one to turn down an opportunity, peeked inside. All things considered, it looked cozy in there. A round table was right at its center with a hand-woven gift basket full of goodies. Nearby it was a comfy chair, ready to accept his fluffy butt.
He stepped back and looked up to this friendly house, "Hm. You know you don't have to give people things to be their friend, right?" Oliver patted the house and continued onward. The cottage slid along behind him.As they journeyed beneath the night sky and its artificial Sun, Oliver started seeing and hearing things. Sometimes the shadows crowed at him, dived and pelted him with intangible weight. Sometimes in the fiery embers of the magic wheat he saw the figure of a beautiful woman at his side. But as he breathed in her magic, she became more and more real. The wheat bowed down all around her. Standing before him, her sunny hair danced and cast its magic into the wind. Together, they watched as silver dragons flew through the sky and fought monstrous, winged shadows. It was at this moment that Oliver remembered who she was.But then the sky tore away and The World quite literally fell apart.Sure, his world shattered, but his story did not end. It was merely a false start. This was the nature of The World, I.
Thanks for reading!
Planned release date: Oct 4th, 2023If you'd like updates, Lia Defe of the BunBun Post would like to formally invite you to join the mailing list.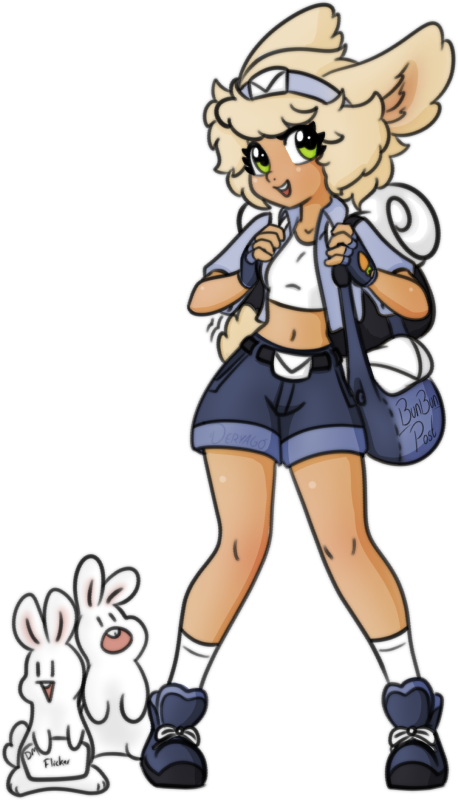 Thanks for reading!
Planned release date: Oct 4th, 2023If you'd like updates, Lia Defe of the BunBun Post would like to formally invite you to join the mailing list.